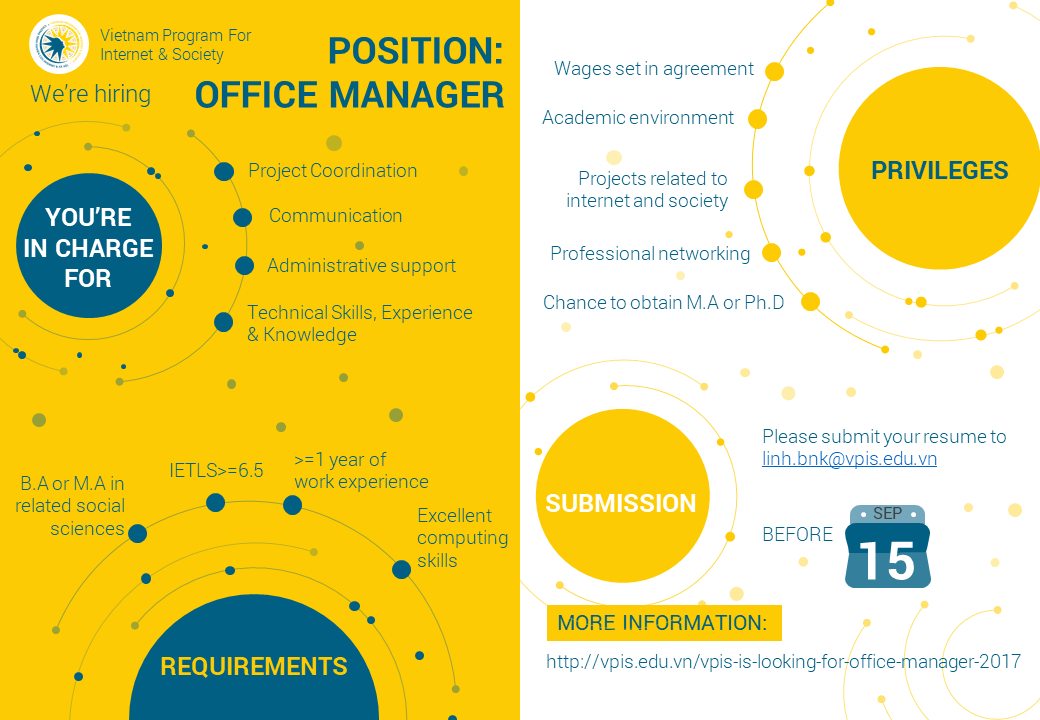 [Hanoi]
Position: Office Manager
The Vietnam Program for Internet & Society (VPIS), the University of Social Sciences and Humanities (VNU) – Vietnam National University is a pioneering academic institute in researching and severing as a think tank in the field of Internet & Society in Vietnam.
We are looking for an outstanding candidate to join our team as Office Manager. The position is designed to work with local and International researchers having interdisciplinary background. Successful candidate has the opportunity to coordinate national-scale projects, liaise with both domestic and international partners (academic institutes and other stakeholders) to operate pioneering researches and conference platforms to address the most needed of Vietnamese society. This position is highly suitable for candidates who plan to pursue MA, Phd or PostDoc in the future.
We prefer candidates with at least 1 year of work experience on education/ administrative or similar fields however this is not the most important criteria. Qualified candidate for this post should (a)possess a desire to challenge himself or herself in new fields of researching related to social sciences & humanities and social media, digital government, gig economy, AI, Internet & health and others; (b) wish to expand the networks with both academic researchers and institutes in Vietnam and across the world, coordinate with multinational corporates.
In this role, you are in charge for:
Project Coordination:
Coordinate with other project leaders to execute daily operations
Coordinate budgeting and planning processes
Support in financial monitoring and ensure all projects are well-maintained
Support project managers in preparing report
Project event management
Communication:
Manage the program's website and fanpage
Produce bulletins and newsletter
Connect with other academic institutes, donors and partners
Manage database on external stakeholders and maintain external contacts.
Administrative support
Coordinate in scheduling, managing external and internal meetings.
Support in programme management and external relations.
Coordinate with other teams across the organisation to ensure smooth operations and synergy.
Coordinate and support interns and consultants who are recruited to deliver research or technical work
Provide other support in reporting, publications, proposal development, and research report.
Technical Skills, Experience & Knowledge
Desire to pursuit higher study and research
Substantial experience of providing programme and support in a similar role
Good organizational and administrative skills and the ability to prioritise competing priorities and meet deadlines
Initiative to work with minimal supervision
Ability to multitask
Working effectively with others, result driven
Flexibility and willingness to learn and adapt within the working environment
Requirements
B.A or M.A in Media, Communications, Sociology, Business, International Studies or related social sciences.
Excellent written and verbal English (IETLS>=6.5) and interpersonal skills.
At least 1 year of work experience
Excellent computing skills
Privileges
· Wages set in agreement
· Opportunity to learn in a professional academic environment
· Participate in research projects and international conferences related to internet and society.
· Professional networking
· Chance to obtain M.A or Ph.D if you intend to study abroad.
Submission
- Please submit your resume to Ms. Bui Nguyen Khanh Linh at: linh.bnk@vpis.edu.vn
- Email title and CV file name: [OFFICE MANAGER] [NAME OF CANDIDATES]
- Deadline: 15/09/2017, early submission with appropriate qualifications will be given interviews priority.